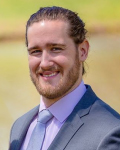 I am a licensed clinical psychologist specializing in individual and family therapy with adolescents and young adults. I have experience helping individuals from varied cultural and socio-economic backgrounds struggling with anxiety, depression, self-esteem, trauma, sexual abuse and offenses, gang involvement, substance abuse, and social skills difficulties. I use a variety of modalities, including CBT, REBT, motivational interviewing, and psychodynamic therapy, as well as conducting psychological testing and evaluations. Prior to becoming a psychologist, I worked as a mentor and youth and high school sports coach in VA, MD, and FL.
It can be difficult to reach out for help. As such, I embrace your courage and seek to create a confidential, inviting, and nonjudgmental setting for you to feel comfortable in as we work collaboratively to develop greater insight, understanding, coping skills, and resilience to help you establish sustainable solutions to the issues most important to you.
I hold a B.A. in Psychology from Amherst College (2010), a M.S. in Developmental Psychopathology from Durham University (2012), and a Psy.D. in Clinical Psychology from Albizu University (2017).
Dr Standiford works out of the McLean office.